Hostinger service is one of the most popular and highest rated hosting providers available today. It has been offering a wide range of hosting solutions for the customers to choose from it according to their requirements.
It was June 2020, when I was looking for a hosting service provider, and I was much confused about 100s of different hosting service providers. Everyone is claiming to provide the same service with no or little changes in it. It confuses beginners, and they might get into a trap by purchasing something that is not worth the money.
And if you put your query on any public platform to get the answer to this, you will never get a satisfactory response about whatever hosting service provider in India they are recommending. I have researched almost a month to purchase the Hostinger India hosting service finally.
Hostinger is Lithuania based company. Hostinger was founded in the year of 2004, and today it has more than 29 million users across the globe. Now, in India, Hostinger is very popular for its service, support, and advanced hpanel, which help customers to do productive work with ease without wasting time waiting for customer support.
Therefore, I recommend Hostinger for web hosting whenever someone in doubt of the best and affordable hosting service provider, which gives premium services at a very reasonable price. Before going to the detailed review of hosting plans and features, let us see what the critical requirements for hosting are.
5 Features of web hosting service to check before buying
Speed: It should load the website on time.
Support: If you got stuck in any technical problems, customer support plays a vital role in solving the problem.
Uptime: Choose a hosting service that provides 99.99% uptime throughout the year and minimum downtime.
Security/Back-up: web hosting providers are also vulnerable to online threats that don't expressly guarantee the safety of your data, and therefore regular back-ups are essential.
Renewal cost: Many hosting service providers offers cheap hosting price for the 1st year, but renewal can be too high to pay.
Once you know the important features to look after before buying the best hosting service at an affordable rate, you can filter out easily, which is suited for you.
I am using Hostinger service from the last three months. I am using fours years premium hosting, which gives a free domain for a year with any TLDs.
So, I am writing a review based on my experience over three months, and I am recommending it because I am fully satisfied with the service provided by Hostinger.
Hostinger Review: Why you should choose it
Is it a new company? Why have I not heard about it earlier?
Many of us feel that Hostinger is a new company, and it will provide good services until it establishes in the market. But its totally wrong. Hostinger was established in the year of 2004, based in Lithuania, and it has a global presence because of its quality service and affordability.
As I told, I am also using Hostinger premium web hosting service with a four-year plan. On the premium plan, you can run multiple numbers of websites.
 I am currently running four websites on it, and it's working fine without any issue. The best thing is that you will get a free SSL certificate for every plan of hostinger, which gives a guarantee to the visitors on the website that their data is safe. 
It has different plans that suit different types of customers to find their best.
Hostinger Panel, generally called CPanel is extremely user-friendly and can be used by those with little experience in website development. It gives more speed, better SEO, visitor retention, and conversions with custom-built WP optimization stack and LiteSpeed cache.
Important reasons to buy Hostinger web hosting service
1. Gives great speed at affordable price
Website speed can slow or grow your business. If your website is loading slow, it will not rank in search engines, harm the SEO, the user experience will be bad as visitors have to wait for the website to load fully, so visitors will avoid the visit your website.



This is the major issue with the cheap hosting service providers. Sometimes it takes almost 3 seconds to make your website functional.
Hostinger gives you enough fast speed load of the website that is one of the best in the peers.
Delight your visitors with a lightning-fast website. Hostinger's Lite speed cache is very powerful and optimizes your website for better user experience.
Hostinger claims load times of 0.143 seconds, and as I have also tested and got data from google on my WordPress dashboard, it never exceeds 0.350 seconds.
2. 24/7 Customer support over chat/mail
You should always prefer services with good customer support. If you are a beginner, there are high chances that you may need support frequently to understand or solve different queries that you have never faced.
Whenever you need help regarding your hosting, the support team should be able to resolve your questions in minimum time by providing you the best solution possible.
Hostinger's team of experts will solve technical issues to get your websites up and running. Anytime.
I have used the customer support multiple times, and they helped me in a significant way with their quick response to solve my queries.
They have migrated to my website from other hosting to their platform very quickly without any data loss.
3. Best Up-Time
The main issue with cheap hosting providers is their downtime. is going down for long then it would affect both your SEO and user experience. I had an awful experience with the previous hosting as it was going down almost every day at midnight, and whenever someone searches my website at that time, it will show an error from server response, etc.
That particular hosting went down at least once on twice daily. I faced this when I wrote and uploaded an article at midnight, and after a few minutes, I was not able to open the website to view the post.
It is practically impossible to give 100% up-time continuously because hosting service providers have to do the maintenance too. Sometimes this happens because of online vulnerability. So if not 100%, then at least it should not be less than 99.95%.
4. Security and Back-up
As we know, cyber attacks and threats are increasing every day. Even big companies are not able to protect themselves. It's not happening regularly, but no one can guess. If it happened even after 5 or 10 years, just imagine all the hard work will vanish within a second.
So it's better to have back-up your data at regular intervals. Therefore, if any vulnerability occurs, you should have a copy of your data.
Hostinger's data on servers is protected by multiple levels of fail-safes, RAID-10, daily, or weekly back-ups.
Hostinger Disaster Recovery:
In case of an unplanned event, they can restore your account to the latest snapshot in a matter of minutes. They set up full and incremental back-ups for all accounts to ensure your data is safe.
5. 30-Days Money Back Guarantee
Sometimes products are very good and recommended by users with their reviews, but still, there are chances that the particular product or service doesn't suit individuals. So, if you are the one who did not like the service after purchasing, is there any option for you to come out.
Yes!
If you are not happy with Hostinger services for whatever reason, you will get refund your payment. No hassle, no risk.
Be 100% sure about that. They are going to give a full refund whatever you have paid them before taxes.
It means your money is secure even if you have used the service for less than 30 days.
It is the best deal. Isn't it?
If you are going to launch your website on the wordpress, then Hostinger is really a best option for you as it is fully optimized with wordpress. That means, its powered by fast loading and highest uptime to your website.
They are giving a various features to make wordpress too easy for you. Hostinger provides Fast servers, 1- click wordpress installation, SSD storage (too give fast loading) and dedicated support to wordpress customers.
These features really makes Hostinger in top of the list in affordable hosting.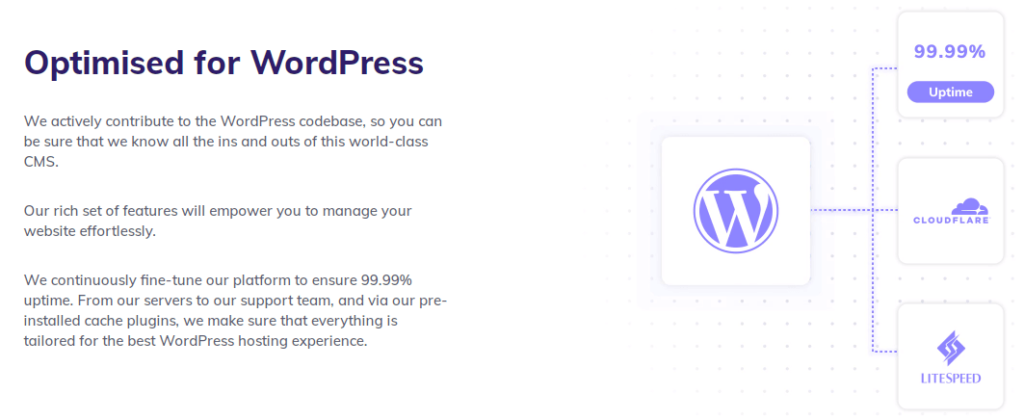 Once I was doing a website design project for a client. The design was completed and scheduled for review with the client. After reviewing the client's requested for few changes.
I told to provide the final design after a day. I was working on the website and accidentally I have done something. After that fully designed website becomes blank…
It was horrible and frustrating that I lost my hard work and wasted my time as again I have to start from scratch.
Luckily, I contacted the Hostinger support team and briefed my problem. The reply from the support team was prompt with the amazing news that…
Under Hostinger Premium Plan You are having Weekly Automatic Backup.
I was saved!
I tried to mention everything as I experienced. If still you have any doubt/query or need help regarding installation and setup, Please do a comment. 
Thank you for reading!
Are you still using the old method to get customer feedback?

Click here

to read about the super easy tool to collect feedback.